Professionally Managed by

Tritz Professional Management Services

1525 E 17th Street, Suite A

Santa Ana, CA 92705

714-557-5900

Springtime Easter Egg Hunt 

Eastbluff families enjoyed a sunny day in the Park on April 4 at the Annual Easter Egg Hunt!

Event sponsored by

Dianne Allen, Realtor, SRES

949-280-6200

www.realestateocnow.com

diannelallen@gmail.com

BRE# 01878179 

Eastbluff Community Involvement

Eastbluff Elementary School Spring Fling Luau Fundraiser: Jason & Grace Hobbs, Joe and Francine Eskenazi, Tyler and Kerstin Woods, Desiree and Steve Gamble, Chad and Lindsay Sparks. April 25,2015

Eastbluff HOA Memorial Day in the Park ~ Presented by Tom Unvert, Realtor

Gracie Hobbs & Port Street Pals!

Click 
HERE
 for lots more photos on Shutterfly!
Sign in with this email: eastbluff@lifestylegllc.com

Password: eastbluff

Little Free Library Dedication in the Park ~ Donated by Chad Sparks & Sharon Esterley

June 28, 2015

Eastbluff HOA July 4 Picnic in the Park ~ Presented by Tom Unvert, Realtor

Please send your event photos to Webmaster@Eastbluff.net 

Ron Rubino & Baron Hobbs "Can we keep him?"

Dave & Matt Wood with Ryan Kelly - Pals!

New PLAYGROUND opens August 6, 2015! Calling all kids!

New benches throughout the park! Linger awhile!

Sunset Jazz in the Park

Blue Heron Park

August 29, 2015

Ron Kobayashi Trio featuring Jerry Mandel with bassist Jack Prather

Special guests ~ vocalist Debi Raven & Eastbluff resident Jim McGaugh

Sponsored by Eastbluff Pilates

2503 Eastbluff Dr #103, Newport Beach, CA 92660

(949) 891-2299

Blue Heron Park Improvements Phase 1!

Pumpkin Carving in Blue Heron Park!

October 25, 2015

Holiday Tree Lighting & Caroling Party

December 6, 2015 in Blue Heron Park

Sponsored by Katie Rollins, Rollins Residential

​and 

Aqua-Link Pools & Spas

About 100+ Eastbluff residents enjoyed snacks, sweets, hot chocolate & eggnog to kick off the holidays with our first (that anyone can remember) Holiday party in the park. Santa, Mrs. C and Elfie were a hit with young & old alike, and carolers performed by the tree before keeping everyone in tune as the crowd strolled nearby homes to serenade the neighbors.

On this first day of Hanukkah, Joe & Francine Eskenazi and their children lit the first candle of the Menorah, and with a traditional Hebrew prayer and help from Matt Stone, blessed the beginning of the 8-day Jewish Festival of Lights.Then the tree lighting set the park aglow with sparkles and snowflakes, all to a rousing round of cheers, applause & singing.

THANKS to our generous sponsors, the entire event was underwritten, and the committee of Grace Hobbs, Desiree Gamble and Sharon Esterley thank all the volunteers who helped set the scene and help make a GREAT party! Jan Sukrau's antique sleigh was the centerpiece for Santa photos and "Just Mike", Steve, Ron, & Jason did the heavy lifting to set streetlights, tables, the tree & supplies in place, along with stringing a spider's web of extension cords! Jay & Anoshie Ratnayake housed the rental stuff overnight, Karly & Jeremy Phillips managed the Toys for Tots and Bobbie & Larry Ingram, Tyler & Kirsten Woods & Juliana Gomes pitched in with setup & decorating. All truly a community effort! 

Happy Hanukkah, Merry Christmas & Joyous Holidays to everyone!

If you have photos for this page, please send them to esterley@aol.com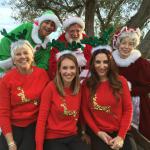 Egg-a-Palooza 2016

Saturday, March 26, 2016 in Blue Heron Park

Presented by

​Dianne Allen, Realtor, SRES

and 

Eastbluff Homeowners Association

Over 100 kids, parents, grandparents and neighbors joined Dianne Allen and the Easter Bunny for a romp in the grass (and sand!) in search of elusive Golden Eggs - almost as good as the candy-filled ones! The second annual Eastbluff 

Egg-a-Palooza was a hit with young and old alike!

Click images to enlarge photo gallery.

Neighborhood Connection Committee (l. to r.) Desiree Gamble and Grace Hobbs, Board Prez Jason Hobbs, Directors Marhnelle Hibbard and Tyler Woods join the Easter Bunny and Dianne Allen (right) for a sunny day in the park.

Neighborhood Connection Chair Ryan Kelly and soulmate Allison with EB.

Cinco de Mayo Mixer

at

Pelican Hill Resort

May 5, 2016

Hosted by

Another Eastbluff  Epic Easter Egg hunt!

Eastbluff Celebrates Halloween

2017

Produced by Peter McKernan

H&M Realty Group

HOLIDAY TOY DRIVE A GREAT SUCCESS - December 19, 2020

The Neighborhood Connection Committee and the Spitzer Roche Team would like to thank Eastbluff residents for their generous turnout for the Inaugural Eastbluff Toy Drive.  The toys and gifts went to CASA (supporting children and young adults going through the Foster Care System in Orange County). See you all same time next year!

Thanks to Laura Roche and Shana Spitzer with Compass in conjunction with the Eastbluff Neighborhood Connection Committee.

www.SpitzerRocheTeam.com

Eastbluff Supports SPIN

Thanks to Laura Roche and Shana Spitzer with Compass ((www.SpitzerRocheTeam.com ) in conjunction with the Eastbluff Neighborhood Connection Committee for sponsoring a Thanksgiving Food Drive to benefit SPIN (Serving People In Need - www.spinoc.org). SPIN is a non-profit organization committed to giving people a hand-up, not a hand-out. SPIN is known for the quality of its programs and the outstanding success rate it has achieved with its clients. In 2019, 92% of SPIN's clients were successful in becoming self-sufficient and independent of all public support.

The generosity of Eastbluff residents helped families in need to celebrate a Thanksgiving with much to be thankful for!